Keeping batteries topped up while out and about is nothing less than a mission, especially if you're in a country with questionable power or on the road. For the past couple of years I've been rocking the XTAR VC2S however the company has just made the excellent product even better.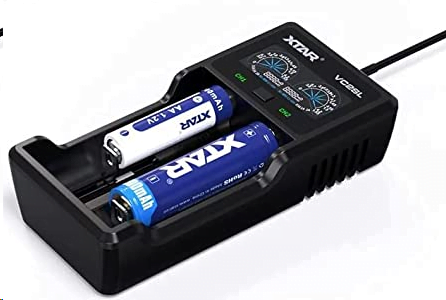 Overview
The new XTAR VC2SL is a 2 bay battery charger which can charge both Lithium and conventional Ni-MH cells. It is powered through a regular USB-C connector allowing it to run off a regular AC phone charger or 12v USB Car Charger meaning you don't need to carry any extra cables or adapters. One of the biggest standouts on this charger is the large graphical display which outlines exactly what the charger is doing and displays the current condition of the battery.
Features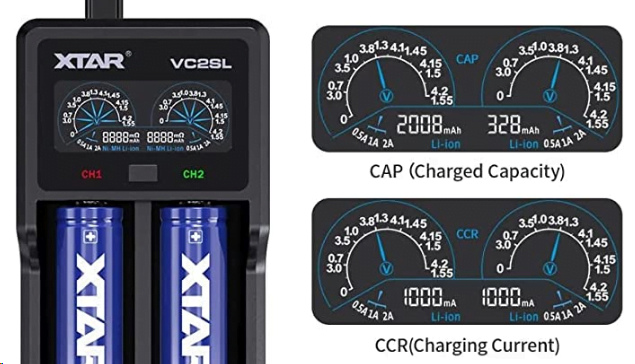 Charges 3.6/3.7V Li-ion and 1.2V Ni-MH batteries (autodetect)
2.1A USB Type-C Input
Dimmable LCD display which shows: Current Voltage, Charging Current, Internal Resistance, Charged Capacity
Microprocessor Controlled: 3 Stage Charging, Over-heat, Over-Current Protection, Short-circuit Protection, Defective battery detection
Fast 1x2A, 2x1A, 2×0.5A Charging Modes
Ability to act as a basic battery bank when fitted with a lithium cell and USB pass-through UPS if plugged into a power source (5v 1A output)
0V Overdischarged Cell Recovery
Small durable lightweight design
Supported Batteries
3.6/3.7v Li-ion: 10440, 14500, 14650, 16340, 17335, 17500, 17670, 18350, 18500, 18650, 18700, 20700, 21700, 22650, 25500, 26650
1.2 NiMH: AAAA, AAA, AA, A, C
Who is this suitable for?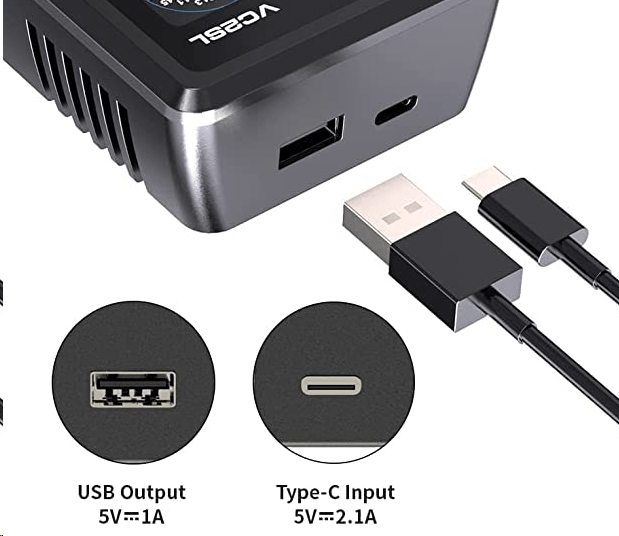 The XTAR VC2S is a mid-range charger suitable for someone who wants a compact but reliable charger which will automatically detect and safely charge most rechargeable batteries on the market. Compared to cheaper chargers on the market it provides a good summary of key data about the cells (such as how many mAh was charged into the cell) without going overboard with complex menus or programs.
It is suitable for:
Everyday charger for regular Ni-MH rechargeable batteries to be used in home devices
Charging 18650 lithium batteries for use in Torches and Vapes
Act as a basic UPS for USB-powered devices (5V 1A)
Those wanting a decent charger that won't blow up
The Good
Easy to use
Can simultaneously charge 2x 18650 at 1A per cell
Will charge most batteries you will ever encounter
USB-C Input
Good Display and Useful summary of information
USB battery bank feature is handy
Affordable
The Mediocre
No ability to adjust the charge rate or cut-off voltage, if charging a single 18650 it will charge at 2A which is quite high
No discharge or reconditioning mode
USB battery bank output is limited to 1A, it would be nice to see 2A
Can be hard to get smaller AAA batteries to make a good connection
Conclusion
If you are after a solid portable battery charger the XTAR VC2SL ticks most box's and is one of the best battery chargers on the market suitable for travel where you just need a no-fuss charger. It is an incremental improvement of the earlier well-loved 'VC2S' model which used an 'USB Micro' instead of the more modern 'USB-C'.
Should you want more control of the charge rates and cut-off voltage the Nitecore UMS2 may be more suitable at the expense of being bulkier, more complex to use, lacking a USB output and using the older USB-Micro input.
Where to get it
The XTAR VC2SL is available globally on Amazon and through retail outlets.

'Mad Hat Adventures' is a participant in the Amazon Services LLC Associates Program, an affiliate advertising program designed to provide a means for sites to earn advertising fees by advertising and linking to Amazon.com