Travelling overseas and having access to your existing mobile is priceless. Callers are able to reach you as if you're still back home, SMS including 2FA prompts come through and most importantly your phone works immediately upon landing.
Data Roaming has been around for years through traditional carriers at prohibitively expensive rates, with most providers switching to equally as pricey models costing $5-10/day on-top of your existing plan which really adds up fast!
Felix Mobile, a new entrant into the Australian telecommunication scene and shoot-off from TPG brings new competition by offering it's jet setting customers $20 Roaming Packs which include's '4GB of data, 100 SMS, 100 Minutes of Call's' with a 365-day expiry. If you don't use all the value, you can save it for a second trip to be used within the year.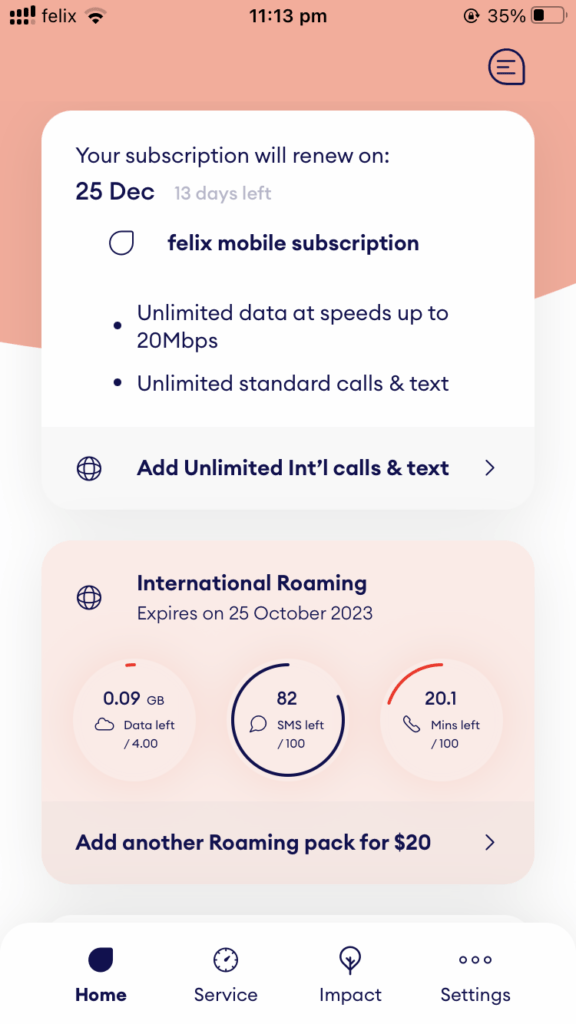 Additional plans can be purchased at any time through the Felix App however it should easily be enough for a decent trip if you only do data-hungry tasks like watching Youtube Videos over wifi. You can track your usage in near-real time in great detail using the App to help plan usage accordingly.
Felix can be used in over 40 countries including all the top Aussi destinations like; Fiji, India, Indonesia (including Bali), Malaysia, Singapore, UK, USA, and Vietnam.
Full list available here
Our experience overseas is that the sim has always paired with and switched between Tier-1 carriers ensuring maximum coverage even in rural areas.
Within Australia the single plan Felix offers includes 'Unlimited Data, Unlimited Calls, Unlimited Texts' for $35/yr with no lock-in contracts using the Vodafone 3G/4G network. Reception can be patchy in rural areas at times compared to Telstra however the service does support 'WiFi Calling' so you can use it with a solid internet connection such as inside your home if you have limited service.
Switching to Felix is easy, the first step is to download the corresponding app for your device (strongly recommended) or signup online. If your device supports 'eSIM' you can be up and running with your existing number ported over in under an hour, otherwise they can express post out a new physical sim card for free!
Click Here to Visit Felix-Mobile and Find Out More: https://felixmobile.com.au/plan
Use Coupon Code ' JF00228 ' for $35 credit which can be used for a free months renewal or go towards purchasing the International Roaming Bundle:
If saving the planet is your thing, Felix is certified by the Australian government-backed 'Climate Active' as being carbon neutral and investing in initiatives such as investing in energy-efficient equipment, purchasing renewable power and planting 1 Tree Per Month for each active service. To date the company has planted over 646,187 trees.
Heads up: This page includes a referral code. If you use it, I may receive a small commission at no extra cost to you.
This post is not sponsored or endorsed by Felix Mobile and I only recommend products I personally use.
What strategy do you use for staying connected overseas? Let us know in the comments below